The Clinton Township Police School Resource Officer Unit began as a community policing program that placed a single Clinton Township Police Officer into North Hunterdon High School. This program has since grown to provide two dedicated School Resource Officers to the local school system and multiple Class III Officers.
These School Resource Officers, also known as SROs, are police officers who are carefully selected, specifically trained and properly equipped. They are assigned to the unit full time and are utilized to supplement patrol when schools are closed.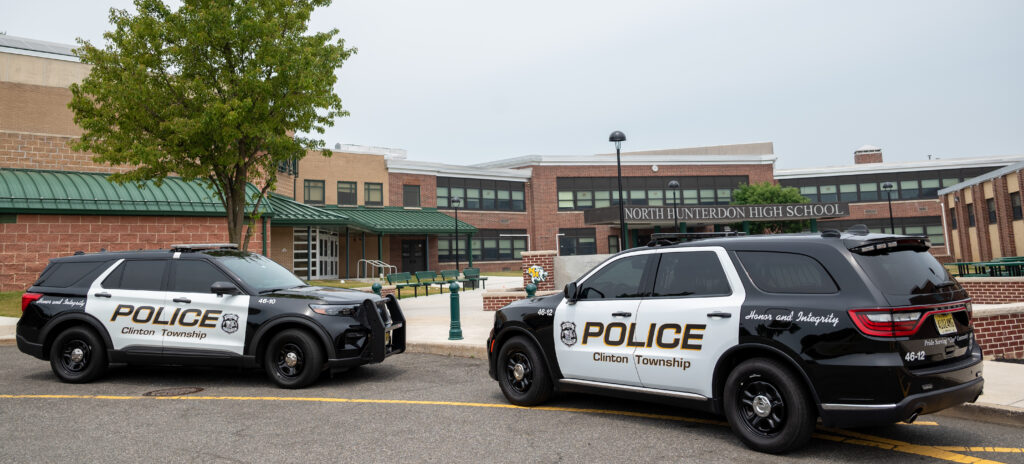 Each SRO conducts proactive patrol throughout the school campus and works closely with the school administrators and teaching staff to provide a safe environment for the students and staff. Each officer has an office in the school and utilizes a marked patrol vehicle.
In addition to their law enforcement duties, they interact with students and educate them in the law. Frequently they are utilized as guest lecturers in the classroom. Together with the school staff, they help solve problems and are an available resource for students and parents. The program has successfully improved the relationship between the police and young people in the community. The officers are involved in school emergency planning and response as well as emergency drills.
Each School Resource Officer is a liaison between the school they are assigned to and the Clinton Township Police Department. The Department is proud of the longstanding relationship it has with the Clinton Township Schools. The School Resource Officers are Officer Raffaella Vastola for North Hunterdon High School and Officer Michael Akers for the Clinton Township schools. There is four additional Class III Officers assigned through the SRO capacity.
This unit is part of the Administrative Division and is supervised by Lieutenant H. Bugal.
1. Robert Capece
Officer Capece is a 1984 graduate of Belleville High School and a 1988 graduate of the Bergen County Police Academy. He joined the Belleville Police Department in 1988 and retired in good standing in 2015 as a Captain. While a police officer with Belleville, Officer Capece served as a liaison between the police department and the Board of Education and also worked closely with the Community Policing Unit. He received numerous commendations during his career with Belleville, including the Knights of Columbus Shield Award in 1996 and the State of New Jersey General Assembly Citation Award in 1999 and 2000.
2. Vincent Castellani
Officer Castellani is a 1984 graduate of Jonathan Dayton Regional High School and also attended Union County College and the University of Maryland, where he studied Criminal Justice. He is a 1989 graduate of the New Jersey State Police Academy, retiring in good standing as a Lieutenant in 2016. While a Trooper, Officer Castellani served as the head of the Strategic Investigations Unit. Officer Castellani received numerous commendations during his career, including the New Jersey General Assembly Resolution Award in 1998.
3. Matthew Lawrence
Officer Lawrence is a graduate of East Carolina State University, where he received a Bachelor of Arts degree in Criminal Justice and holds a Masters Degree in Human Resources Training and Development from Seton Hall University. He is a 1996 graduate of the Monmouth County Police Academy. Officer Lawrence served 25 years as a law enforcement officer, retiring in good standing as Sergeant from the Raritan Township Police Department. Officer Lawrence served as a detective and field training officer during his career, as well as having received his police motorcycle operator certification from Northwestern University.
4. Officer Carasio
Officer Carasio graduated Hillside High School in 1974. He is a US Navy Veteran and began his career with the Hillside Police Department in 1981 graduating the Union County police Academy in May 1982.

He served in many capacities, retiring in good standing as a Detective in 2007. While assigned to the Detective Division he had been assigned several high-profile cases and bringing them to successful conclusions. During his career he was awarded several awards including the prestigious Union County "200 Club" award twice, Combat Cross, Valor Award Distinguished Service Awards as well as being awarded the Officer of the Year twice. Officer Carasio began his second career with the Clinton Township Police Department as a SPOII in January 2008 serving in many capacities.
The application and selection process employed by the Clinton Township Police Department in hiring the Class III officers was the same as that of full-time officers. Clinton Township Police worked closely with Township representatives and school officials in implementing the hiring process and developing a contract (known as a 'Shared Services Agreement') between the two agencies. Chief Thomas DeRosa provided a great deal of logistical assistance by securing the uniforms, equipment, and training that each officer needed.